Summer Conditioning/Open Gym 
June 15: 9:00am-11:30am
June 22: 11:30am-2:00pm
June 27 & 29: 9:00am-11:30am
July 18 & 20: 11:30am-2:00pm
July 25 & 27: 9:00am-11:30am
Anyone participating in open gym and summer conditioning needs a completed physical packet.
Tryouts 
Tentatively scheduled for the week of July 31 from 9:00am-11:30am

 
If you have any questions, please email
Coach Pollock at npollock@pasco.k12.fl.us or
Coach Newton at konewton@pasco.k12.fl.us
 

2016 Volleyball District Champions!!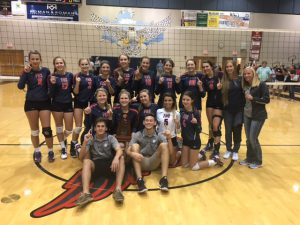 Congratulations to the team for making it to the Regional Semifinals this season!
Congratulations to the following Volleyball players that were named to the 2016 Fall West Pasco Sunshine Athletic Conference Teams!!!  
1st Team- Kirbea Harrell
2nd Team- Hailey Lake  
2nd Team-Lindsey Christianson