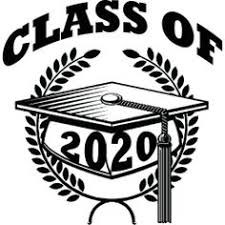 Parent Message May 4th, 2020
Good afternoon families of Fivay High School, this is Jason Joens, Principal calling.
The end of quarter 4 is quickly approaching.  Here are some important dates to note so your child can meet all requirements to earn their high school diploma and participate as a June graduate.
Class of 2020
August – Traditional graduation
June 6th – Virtual graduation
We are putting together a slide to celebrate each Class of 2020 graduate. We will be using picture taken by Leonard's photography for each graduate's slide.  If your child did not participate in this photo session at school during the year, you will need to submit a picture of your child dressed in formal attire.  The photo needs to be from armpit to top of head on a solid color background.  Please email this picture to with your child's name to Mr. Joens or Mr. DeWalt.
Start now, due May 8th, this Friday
You can also purchase a "Shout out" slide to specifically recognize your child.  This slide will be played at both the virtual and traditional celebrations.  The cost is $10.  Please go to the Slide Shout out link, complete the information https://fhs.pasco.k12.fl.us/mform/view.php?id=57339
Then, go to the Rycor payment link to purchase. Fivay High School Senior Shout Out
Both of these links can be found on our school website.  All "Shout Outs" will need to Administratively approved and no refunds will be given.
May 14th (9-11am and 1:30-3:30pm)
Pre-purchased cap and gown and yearbook (purchased in full) can be picked up at the school.  Only seniors will be allowed to come and pick up these items in a drive-up distribution model.  If you still would like to purchase a cap and gown or a yearbook, use the links on our website.  Just to note: All graduates participating in August graduation celebration will need to purchase a cap and gown.
May 22nd
Last day for Seniors to submit work to qualify for graduation in June.
6pm – There will be a Class of 2020 graduation parade.  Details to come.
May 26th and 27th (9-11am and 1:30-3:30pm)
Seniors will be notified if they have met June 6th graduation requirements and are able to participate in Virtual graduation.
Turn in of school borrowed computers and chargers.
Any textbooks, uniforms, or Pasco County School materials.
Pick up any personal items from school locker or classroom.
June 6th Virtual graduation
This is an exciting time to finish up the year.  Do not miss out of the opportunity to participate in the June graduation.
As always, thank you for being partners in your child's education.
IMPORTANT DATES
*All students are required to pay a base graduation fee of $85
Fee includes: cap and gown, tassel, medallion, diploma/cover and venue fee
Website to Cap and Gown and Graduation Products:  
https://highschool.herffjones.com/secom/school/FL/FIVAY/09010788000/2234/buildpackage/1
Club Honor Chords will be available for purchase ($10); see club sponsor
Grad Bash: Cancelled due to Quarantine
Prom: Cancelled due to Quarantine 
Senior Breakfast: Cancelled due to Quarantine
Graduation 2020:
Virtual Graduation on June 6, 2020 – Details to Come
In Person Graduation: August 2020 – Date and Time to be determined.