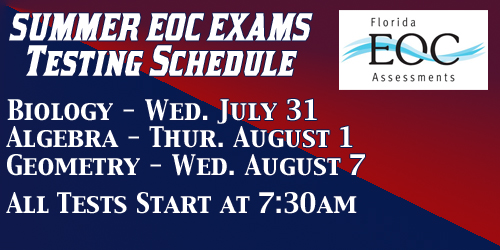 Summer EOC (End of Course) Exam Retakes:

Reminder that Summer End of Course Exams will be administered this week and next week. They will begin at 7:30 am in the Media Center. If your student will be in attendance, please contact the school at 727-246-4000 to RSVP and reserve your seat.
Biology: Wednesday, July 31 at 7:30
Algebra 1: Thursday, August 1 at 7:30
Geometry: Wednesday, August 7 at 7:30
If your student is found with any electronic devices, including, but not limited to cell phones and smart phones, during testing or breaks, his or her test will be invalidated. The best practice is for students to leave devices at home on the day of testing.
If you have any questions related to this test administration, you may contact Deanna Waide at 727-246-4000.