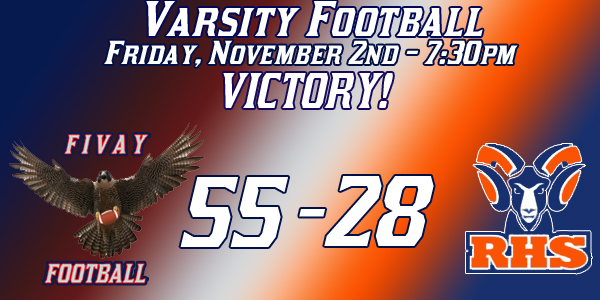 The Falcons defeated the Ridgwood Rams on Friday night 55-28 to stay undefeated in School History in Homecoming Games. Tyler Degen and Andrew Meyer hooked up early and often in the First half as Degen Passed for over 300 yards and Meyer had over 150 yards receiving and three touchdowns receiving.
Degan also threw two touchdown passes to Willis Reeves who also had over 100 yard receiving.
To round out the offensive Fireworks, Junior RB/FB Justin Erwin exploded for almost 200 yards rushing and two touchdowns.
With the Victory, as well as the Zephyrhills Loss and Anclote Win, Fivay will host a three team Shootout on Monday with ZHS and AHS with the winner securing the Runner Up Spot in Class 5A-District 6 and will go to the playoffs.
News Stories on the Game: