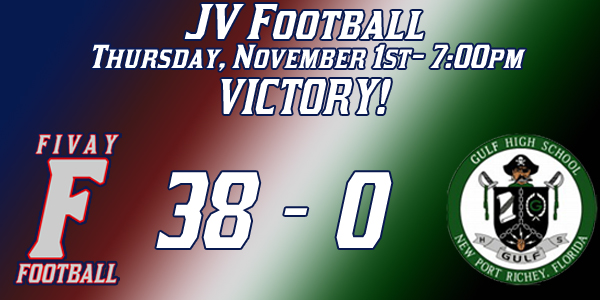 The Fivay JV Football Team completed their season with a Commanding Victory at Gulf High School Thursday night. The Falcons jumped out to a 14-0 lead in the first quarter and never looked back.
The Defense then proceeded to take two interceptions for TDs in the 2nd Quarter and the Offense scored one last time on the last play of the 1st half.
With the 38 point lead at Half Time, the game proceeded to a running clock in the 2nd Half which saw Gulf and Fivay trade possessions back and forth with neither team able to reach the goal line.
The Victory put the Team at 3-4 for the season with the first game of the year unfinished at Zephyrhills due to lightning.
Congratulations to Coach Simonds, Coach Dew and Coach Brantley and the Entire JV Team for a Great Season!