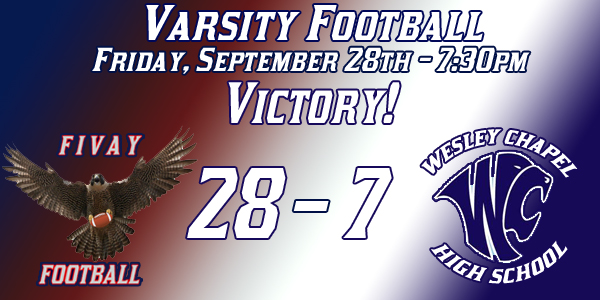 The Falcons traveled to Wesley Chapel Friday night and came home with another victory in Class 5A-District 6 to remain in a tie for first place with Pasco HS and Zephyrhills HS. The Falcons scored twice in the first quarter to take a 13-0 lead. The Wildcats were able to counter with a long punt return into Fivay territory which ended up in a short drive to make it 13-7 at half time. But the Falcons came out in the Second Half and scored two more touchdowns to put the game out of reach.
Davion Sutton scored all 4 TDs for Fivay as he rushed for 190 yards on 27 carries as a standout on Offense. The Falcon Defense also played their best game of the season forcing four turnovers. Cameron Coleman had two interceptions, Willis Reeves collected another and the Falcon DL forced and recovered a fumble.
Next week the team takes a short road trip to Hudson High School to Face the Cobras. It will be a special night as the Cobras plan to Honor our Nations Military with Special Camouflage Uniforms and Ceremonies. Click here for Information on the Special Events at the Game. Kickoff will be at 7:30pm. Go Falcons!
News Stories on Friday Nights Victory: