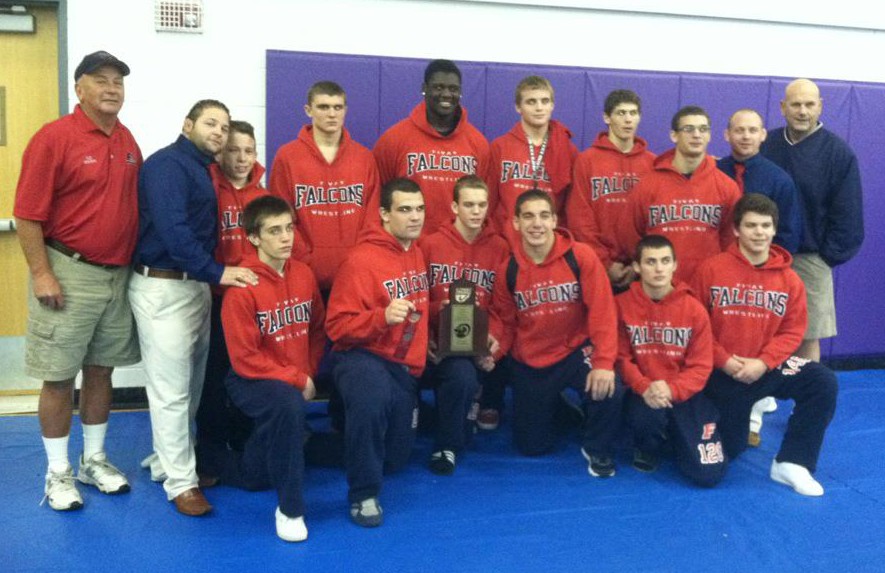 LAKELAND– The Falcon Wrestlers have earned the First Regional Championship in any sport for Fivay High School. The Falcons won the Championship at the Class 1A – Region 2 Tournament at Tenoroc High School.
Eleven Falcons (Cole Manion (106), Troy Reed (113), Sean Speer (120), Jesse Barker (126), Andrew Scherer (138), Colin Hahn (160), Dominic Grilli (170), Nicco Lightfoot (182), Dominick Bradford (195), Mike Hahn (220) and Kelly Meus (285) won matches that helped the team accumulate enough points to outlast Lake Highland Prep High School for the Championship.
Eight of the Falcons were able place in the top four places in their weight classes and advance to the State Finals next weekend at the Lakeland Civic Center.
Making the Regional Championship Finals and placing Second were Reed, Speer, C. Hahn, Grilli, Lighfoot, and M. Hahn. Mike Hahn lost his first match of the season in the Finals 3-2 and Lightfoot lost only his second match of the season.
Placing Fourth, which also qualifies them for the State Tournament, were Scherer and Meus.
Congratulations to the Falcon Wrestling Team and Good Luck next week at State!