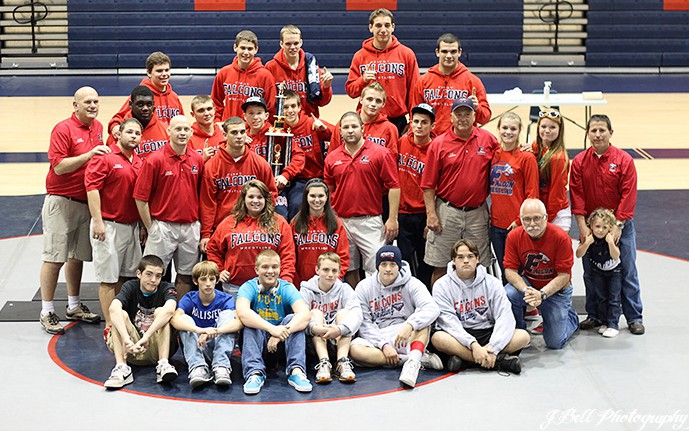 HUDSON– Next up for the streaking Fivay Falcon Wrestling team is the Class 1A – Region 2 Tournament this Friday and Saturday at Tenoroc High School in Lakeland, FL. The Falcons Qualified Eleven Wrestlers for the Tournament, including Six District Champions. The Regional Tournament features the top four place winners from Class 1A Districts 5-8 in fourteen weight classes.
Region 2 currently has Six of the Top 25 Ranked Teams in Class 1A in the State of Florida. Lake Highland Prep comes in ranked #3 with eight ranked wrestlers. Fivay is currently ranked 10th with seven ranked wrestlers. Astronaut High is ranked 13th, also with seven ranked wrestlers. Pine Crest Christian enters as the 15th ranked team with two ranked wrestlers. Golden Gate High is rated 20th with six ranked wrestlers. And Pasco High School is also tied for 20th with one ranked wrestler.
Preliminary and Wrestleback (First and Second) Rounds start at Noon on Friday. Semifinals will be at 10:00am on Saturday. Wrestleback (Third and Fourth) rounds will be at 12:30pm on Saturday. Championship and Consolation Finals will begin at 6:00pm on Saturday.
Cost to attend is $7.00 per Session.
Falcons competing in the tournament with hopes for a ticket to the State Tournament are
Sophomore – Cole Manion – 106 lbs.
Junior – Troy Reed – 113 lbs.
Junior – Sean Speer – 120 lbs. (Ranked 7th)
Senior – Jesse Barker – 126 lbs.
Sophomore – Andrew Scherer – 138 lbs. (Ranked 14th)
Junior – Colin Hahn – 160 lbs. (Ranked 14th)
Senior – Dominick Grilli – 170 lbs. (Ranked 4th)
Sophomore – Nicco Lightfoot – 182 lbs. (Ranked 9th)
Junior – Dominick Bradford – 195 lbs.
Senior – Mike Hahn – 220 lbs. (Ranked 2nd)
Junior – Kelly Meus – 285 lbs. (Ranked 9th)
The top Four Placewinners in each weight class qualify for the State Tournament to be held February 18-19 at the Lakeland Civic Center.
Good Luck Falcons!