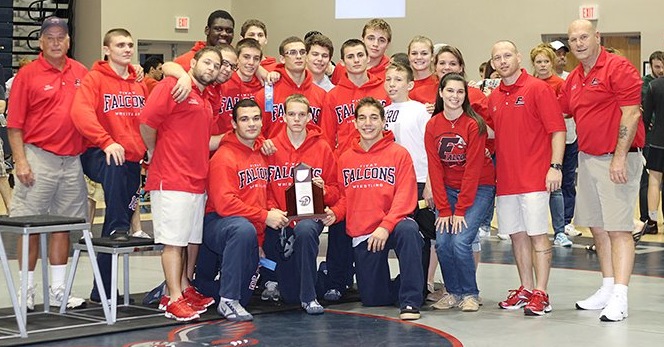 HUDSON – The Host Fivay Falcon Wrestling team came into the Class 1A District 8 Tournament as Meet Favorites. The Falcons didn't take long to live up to those expectations. In the nine team tournament the Falcons entered twelve wrestlers in the fourteen weight classes. Ten of those original Twelve won their way into the Championship Final Round, which solidified the Tournament Championship for Fivay.
Junior Troy Reed (113), Junior Sean Speer (120), Senior Jesse Barker (126), Sophomore Andrew Scherer (138), Junior Colin Hahn (160), Senior Dominick Grilli (170), Sophomore Nicco Lightfoot (182), Junior Dominick Bradford (195), Senior Mike Hahn (220), and Junior Kelly Meus (285) all were finalists for the Falcons and qualified for the Regional Tournament.
Six of the finalists for Fivay were able to capture District Championship ribbons; Reed, Barker, C. Hahn, Grilli, Lightfoot, and M. Hahn. By placing in 2nd place Speer, Scherer, Bradford and Meus also qualified for Regionals.
An eleventh wrestler for the Falcons also qualified for Regionals when Sophomore Cole Manion (106) finsihed in fourth place.
For the Tournament, the Falcons had the Most Wins (28), Least Losses (8) and finished with 14 wins by Pin.
Final Team Scores for the Meet were:
Fivay HS: 200.0
Pasco HS: 148.0
Crystal River HS: 133.5
Anclote HS: 129.0
Dunnellon HS: 110.0
North Marion HS: 67.5
Trinity Catholic HS: 60.0
Weeki Wachee HS: 32.0
Hudson HS: 3.0
Next Up for the Falcons is the Class 1A – Region 2 Tournament to be held at Tenoroc High School in Lakeland, FL. First Round Matches will start on Friday, February 10th with the Finals to be held on Saturday, February 11th.
News Articles about the Championship:
HUDSON Just one week after winning its first ever Sunshine Athletic Conference title, Fivay brought home its first district title Saturday by winning the 1A-district 10 tournament. The Falcons send 11 wrestlers to regions, including six champions. The Falcons finished with 200 points, 52 points better than second place Pasco.
Individually, it was the same wrestlers leading Fivay that has led them all season, starting with 220-pounder Mike Hahn. Hahn remained undefeated at 34-0 with a third period pin of Pasco's Zach Jordan.
Troy Reed, Jesse Barker, Colin Hahn, Dominick Grilli, and Nicco Lightfoot were the other district champions for Fivay.
Pasco was led, once again, by 120-pound J.P. Gamez. Gamez defeated a resilient Sean Speer of Fivay, who was battling illness, 5-4. Niko DeAugustino also was a first place finisher for the Pirates at 138 pounds.
Fourth place Anclote was paced by 106-pound Chris Sorrick, who took home the district title by defeating Pasco's Kevin Tipton, 9-2.
Steven Campbell
HUDSON — Fivay, which won its first conference title in school history last week, won its first district crown Saturday.
The Falcons (200 points) won the Class A, District 8 tournament rather handily thanks to six individual champions. Fivay advances 11 overall to the Class A, Region 2 tournament at Tenoroc in Lakeland next week.
Troy Reed (113 pounds), Jesse Barker (126), Colin Hahn (160), Dominic Grilli (170), Nicco Lightfoot (182) and Mike Hahn (220) all took first for the Falcons. Barker and Mike Hahn were repeat champions.
Pasco (148 points) earned the runnerup trophy with titles from J.P. Gamez (120) and Niko DeAugustino (138).
Anclote's Chris Sorrick (106) and Colton Nichols (132) were the other two North Suncoast individual champions at the tournament.