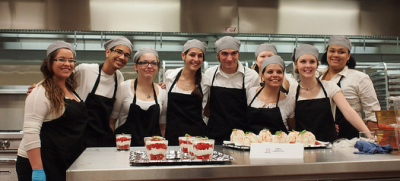 LAND 'O LAKES — Thursday Evening Twelve teams from various schools in Pasco County competed in the Cinderella's Favorite Desert Competition at Land 'O Lakes High school. The Top Three Deserts would earn a Golden Ticket to serve their deserts at the Cinderella Ball to be held on March 3rd.
Fivay High School sent three teams to the competition and one of the teams earned Third Place with their Entry. Danielle Sneve, Cody Hindman (both of whom have been accepted to Johnson and Wales University) and Sara Schiff earned third place with their Entry: Strawberry Bombe with a Strawberry-Citrus Culis.
First place went to a team from Anclote High School who presented a ten layer torte and Second place went to one of the Land 'O Lakes teams for their french chocolate mousse tart. All three winning teams must now create 90 platings of their dessert to be served at the Cinderella Ball on March 3rd.
Congratulations to Danielle, Cody and Sara!